Vape Machine Premium E-Liquid Now Available!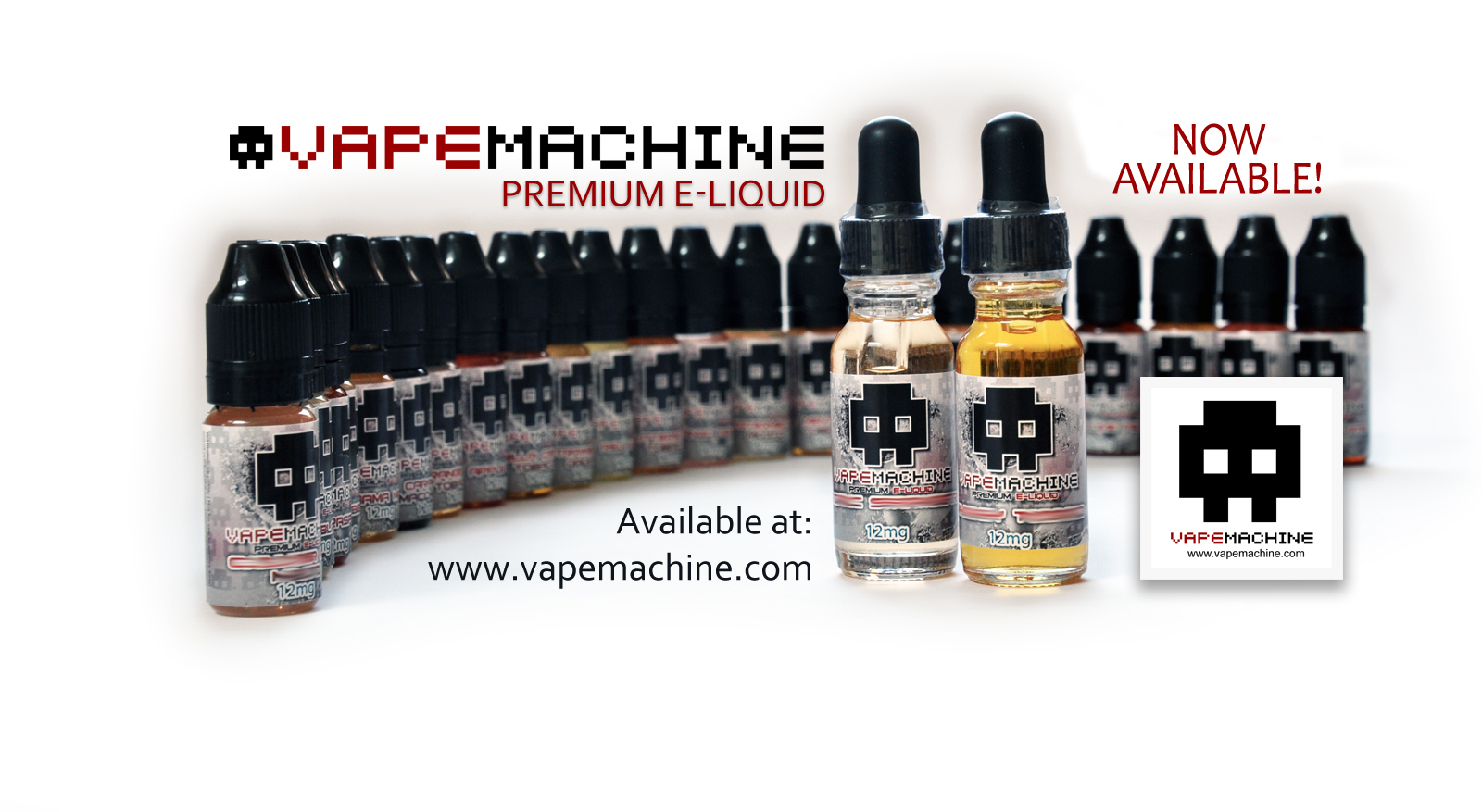 Gear Oil E-Liquid – A smooth and full bodied tobacco with a hint of whiskey for a mature vape that will fulfill your desire for the real thing. Vape Machine Gear Oil is our home brew alternative to real tobacco!
Mentholoid E-Liquid – A light menthol tobacco to meet your desire for a smooth menthol vape.
Grapezoid E-Liquid – Grape the way it should be, sweet and smooth without the overpowering tartness. Grapezoid E-Liquid is like popping a fresh purple grape in your mouth.
Suikawari E-Liquid – Suikawari (Watermelon Splitting) is a traditional Japanese game that involves splitting a watermelon with a stick while blindfolded. Suikawari E-Liquid is a sweet watermelon vape with a hint of Now'n'laters.
Das Schokolade E-Liquid – Looking for an after dinner dessert vape? Das Schokolade E-Liquid is a smooth and sweet chocolate vape with a refreshing hint of mint much like an Andes Candy.
All Vape Machine Premium E-Liquid comes in 15ml glass bottles, heat shrink sealed for your protection. All glass bottles come with an eye dropper pipette. Our premium e-liquid comes in 30/70 PG/VG using only USP ingredients in 6mg, 12mg, & 18mg strengths. Vape Machine E-Liquid is produced in the USA.
15ml Glass Bottle
Eye Dropper Included
Heat Shrink Sealed
30/70 PG/VG
6mg, 12mg, 18mg Strength
USP Grade Propylene Glycol
USP Grade Glycerine
No additional water or colors added
Warning: Always keep e-cigarette liquid in a safe place and out of reach from children and pets. Nicotine in its pure form is a poison, and can cause harm if ingested by a child. You must be 18 years or older to purchase Vape Machine Premium E-Liquid.